From Small-Scale to Large-Scale Projects: Towable Welfare Units Hire For All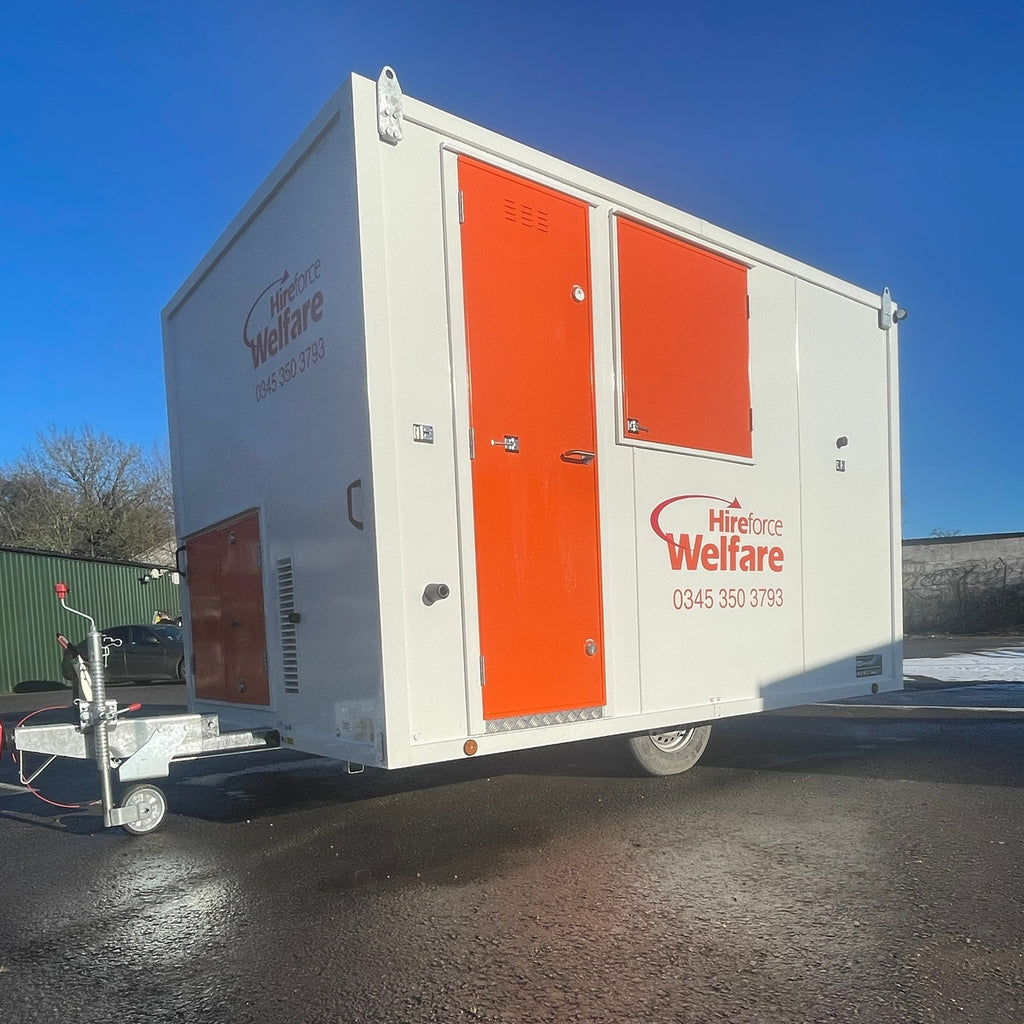 The world of modern industries is extremely dynamic and challenging. In this fast-changing atmosphere, the welfare and well-being of workers and participants have taken centre stage like never before. 
A crucial element to ensure your business offers optimal working conditions is the provision of adequate and convenient welfare facilities. From construction sites to event venues, the concept of hiring towable welfare units has quickly emerged as a transformative solution. 
At its core, towable units provide mobility and adaptability of facilities that offer restrooms, kitchen spaces and seating areas, all contained within a compact size. While small-scale towable welfare units have long played a crucial role in delivering essential amenities, the evolving demands of modern projects have ushered in a new era.
This era revolves around the transition to large-scale projects that require comprehensive welfare solutions to accommodate a growing workforce. From our 6-person ecosmart unit that caters to small-scale projects, to the 16-man ecosmart unit for large-scale projects, it's no wonder welfare cabins have become the preferred choice among businesses. 
In this blog, we explore how towable welfare units for hire are a perfect match for your diverse project needs. From small-scale to large-scale projects, our welfare cabins are the optimal solution to ensure the well-being and safety of your employees. 
Where Mobility Meets Necessity 
Typically, towable cabins offer mobility and adaptability of facilities with the help of resting areas, kitchenettes and canteen areas. These small-scale units have become synonymous with convenience, allowing project managers to ensure worker well-being even in remote or temporary locations. 
For smaller projects like minor construction sites or local events, these mobile units have been a game-changer, meeting essential needs without incurring exorbitant costs or logistical challenges. With a 30-second setup time and battery-generated power, these self-contained units are the preferred choice for efficient project management. 
Along with this, hiring these towable units offers added mobility saving both time and effort. With our Ecosmart welfare units, you do not need a specialist vehicle for towing, making it all the more easy to transport. 
In fact, our ecosmart welfare units are loved by users for their stable towing behaviour and low weight. If you are looking for a cost-effective solution, these units make for a viable option for projects with limited budgets.
Furthermore, their compact size ensures that they can be placed in tight spaces where larger facilities might not be feasible. However, as industries continue to evolve and projects grow in scale and complexity, the limitations of small-scale units have become increasingly apparent.
The Growing Demand for Large-Scale Solutions
In recent years, there has been a shift in the scale of projects across various industries. Large-scale construction projects, sprawling music festivals, and expansive film productions have become the norm rather than the exception. As project sizes increase, so do the requirements for welfare facilities. 
At Hireforce Welfare, we feel it's essential to cater to the diverse needs of modern industries. In our effort to do so, we studied the pain points our users face and eventually paved the way for large-scale solutions. For instance, our 10-16 person ecosmart welfare units also offer compact office spaces for individuals looking for convenient, portable workspaces. 
The transition to large-scale projects is not merely a matter of scaling up existing small units. It includes reimagining what towable welfare facilities can offer. 
Along with the basic amenities, our new and larger units cater to the diverse needs of a larger workforce and also offer office space. The goal is to create a self-contained environment that fosters productivity and well-being, even in the midst of demanding projects.
Advantages Beyond The Scale 
The transition from small-scale to large-scale towable welfare hire extends beyond mere logistics; it has profound socioeconomic implications. As companies invest in advanced units, they underscore a commitment to worker well-being and safety. 
After all, improved welfare facilities foster better working conditions and reduced stress levels. These efforts significantly improve job satisfaction among workers while enhancing productivity and reducing turnover rates. 
Moreover, these initiatives contribute towards a positive public image for companies and industries as they prioritise worker comfort and health. This responsible and ethical approach towards project management helps them stand as leaders of a better future. 
Contact Hireforce Welfare To Built A Future of Towable Welfare Excellence
The journey from small-scale to large-scale projects in the world of towable welfare hire is a testament to the evolving nature of modern industries. It reflects the ongoing commitment to creating better working conditions and the importance of adaptable solutions to meet the needs of diverse projects.
Looking to hire towable welfare units? We can help you! 
At Hireforce Welfare, we offer high-quality 6-16-person welfare units that cater to all projects. Founded in 2012, we have rapidly grown to be a leading tool and equipment hire company in the UK, with new operations spanning across neighbouring counties of the UK. Our years of experience stand as a testament to the leading service standards and modern equipment that we swear by. 
Contact us
at
0345 3503793
or get in touch with one of our executives to get started on this transformational journey.